Dota 2 is one of the biggest esports titles in the world. However, compared to its competition, especially to League of Legends, it is severely lacking in support for teams outside of the Top 30-50 in the world.
by
Asura World
in Oct 25, 2019
Asura World Highlights
DOTA2
This lack of support for lower-ranked teams in Dota 2 has scared off many potential tournament organizers and other investors from investing into the scene.
Thankfully, ESL and Dotabuff has thrown their hat into the ring to help somewhat introduce some sustainability into the more obscure and less popular part of Dota 2's competitive scene.
The ESL Academy and the Reach matchmaking service will pave the way for amateur Dota 2 players to play against other aspiring elite prospects and give them a platform to show off what they are capable of so that they can be picked up by an organization looking to fill out their roster.
The Reach matchmaking platform will prove especially useful for high-ranking players. Using a special algorithm to eliminate long loading times, this will allow elite prospects to constantly practice and play matches. Not to mention, it will come with an exclusive program for high-ranking players known as the "Contender" division, where players can enjoy a stricter and more detailed behavioral score
system to minimize toxicity while also offering scheduled training and practices.
Players in North America and Europe can start enjoying the service through the Reach client in November.
The initial ranking period will last until January 2020. After this, the top-40 players from both regions will be pooled together. From there, hand-picked Dota 2 veterans will then draft the players to form a total of four five-man teams.
These teams will act as if they were official rosters. They'll practice as a team and play in online tournaments together. They will also attend several bootcamps together as a team in February before ultimately getting a shot at competing at an official LAN event by ESL in March 2020.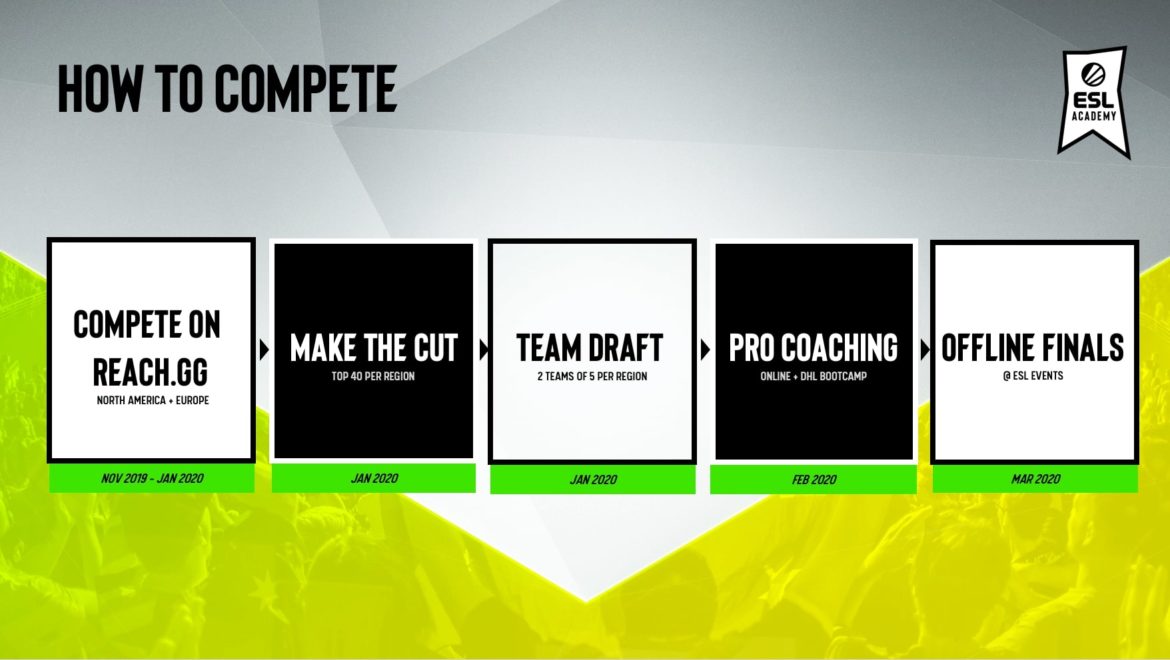 This may just be one step in the right direction, but this is huge for Dota 2.
Giving talents a place where they can hone their skills and get noticed can do wonders for Dota 2's competitive scene. This should help encourage more and more players to try and commit to becoming a professional esports player, which, as any active and former pro would tell you, is much easier said than done.
In addition to giving players a chance to join a team and get noticed, the Reach matchmaking service is also offering a monthly prize pool of $20,000, which will be distributed to the highest-ranking players from each region.
Hopefully, ESL investment's will inspire other companies to do the same thing and support the lower ranks of Dota 2's competitive scene.